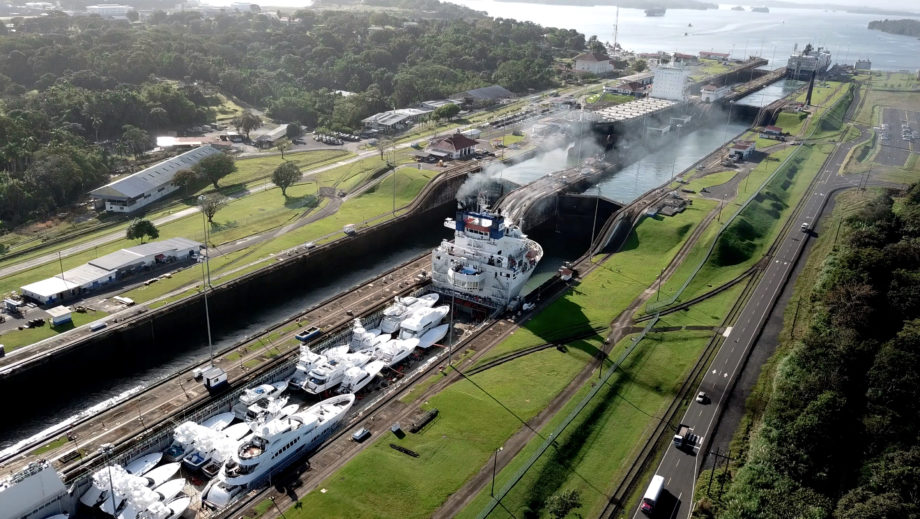 We recently had the unique opportunity to travel 9,800 nm with DYT owned, Yacht Express from Fort Lauderdale, Florida to the remote French Polynesian island of Tahiti. This is an engineering perspective of the journey.
Long-distance yacht transport has become increasingly popular in recent years with the addition of more ships capable of transporting multiple yachts, some up to 80m, across the globe.
The decision for a yacht owner to ship their vessel this vast distance comes at a significant cost and requires considerable planning by the Captain and Chief Engineer to ensure the vessel completes the journey safely and without incident.
Yacht Express is undoubtedly an engineering heavy hitter designed with one job in mind; to haul yachts long distances.
Yacht Express Specification
Vessel Length – 209 meters (685.7 ft) and a beam of 32.2 meters (106 ft).
Deck size – 165 meters (541 ft) long and 31 meters (102 ft) wide with a total area of 5,115 square meters (55,060 ft)
Ballast Pumps – 4 in total with 1,200 cu.m/h at 30 m head capacity
Propulsion – 2 x  8,700 kW Wärtsilä 12V38 B common rail diesel generator sets, each driving two Lips azimuth pulling thrusters featuring CP-propellers via two electric motors of 5,100 kW each.
Speed – 18 knots
Dead Weight – 11,000 tonnes
Engineers understand a vessel requires 3 things to operate. Power (electricity), seawater and freshwater.   Others may argue, a decent chef is as essential. No argument here.
AC power is critical to provide power to operate almost everything you are used to using onboard. More specifically, AC power provides battery chargers with the necessary power required to keep a vessels DC power sources charged sufficiently to run emergency and monitoring systems.
Seawater, depending on the configuration of the vessel, is required to cool systems from air conditioning condensers to refrigeration units as well as provide service to many sewage treatment plants.
A boat without freshwater isn't much fun. Showers, toilets, cooking, drinking – it's critical.
Yacht Express is a commercially owned and operated vessel which relies on short turn arounds when picking up and dropping off vessels. The process of loading and unloading is overseen by the Load Master. The Load Master works closely with a team of divers and the ship's crew to ensure each vessel is loaded securely. Loading involves 'riders' (another term for yacht crew who are staying on board for the journey) to drive onto the sunken deck of the ship. As the ship's enormous ballast pumps start to discharge water, the ship begins the floating process. Each yacht will have a different draft. The yachts with the largest draft will load first by making contact with the supports which are maneuvered around by the divers.
The Load Master in our case had many years of experience and relied on a steady stream of shouted instructions to direct the divers on what they should be doing and when. At times, it feels like chaos but you must remember the complexity of the task being performed.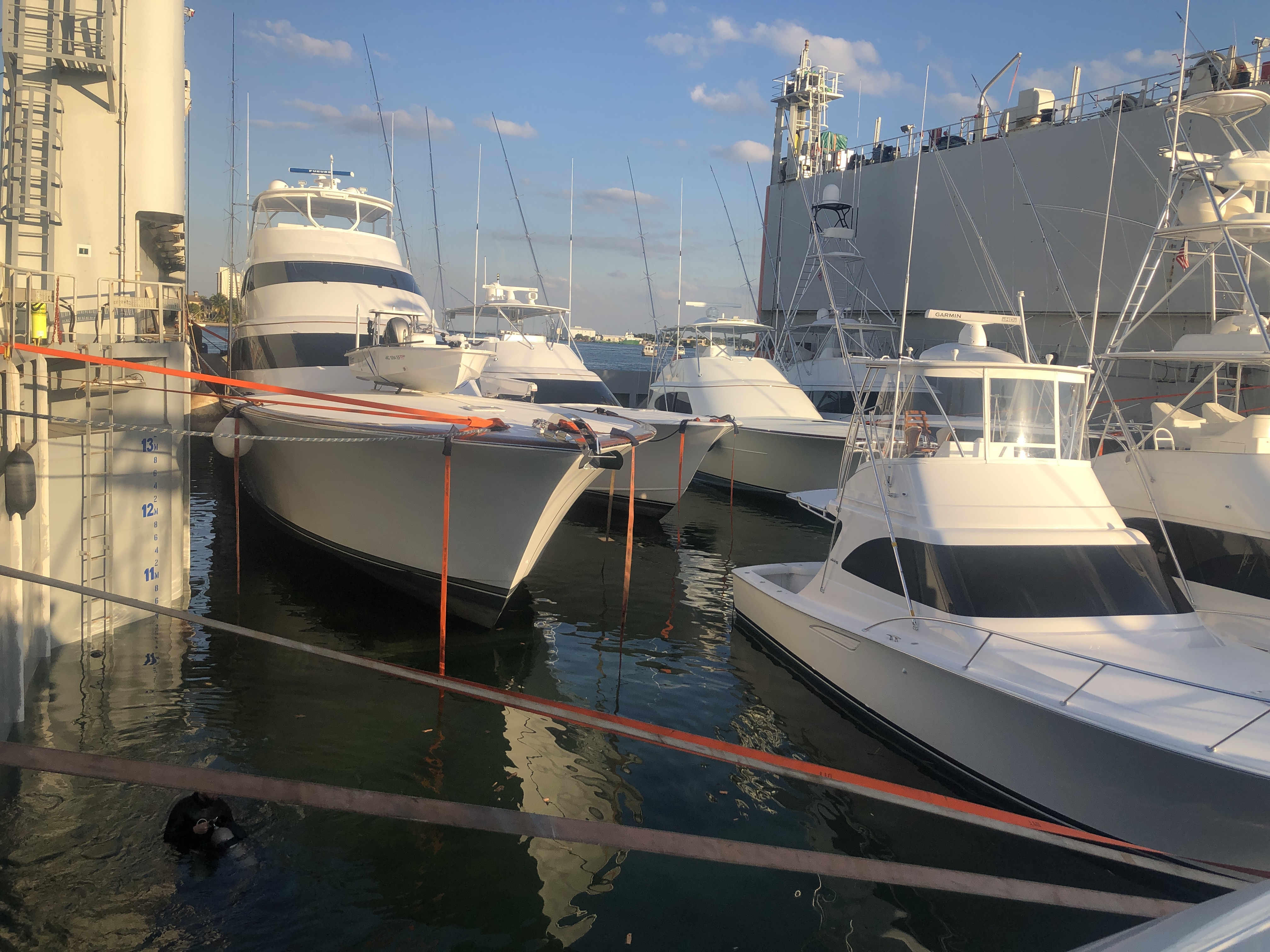 Once a vessel is secured to the deck with straps welded directly to the deck, most rider's attention turns to setting up hoses to supply seawater and freshwater via outlets situated every 30m around the port and starboard walls of the ship. Most opting to run hoses through the sea strainers up into the engine room and back. Seawater in, seawater out. Black / grey water discharge out. Freshwater in.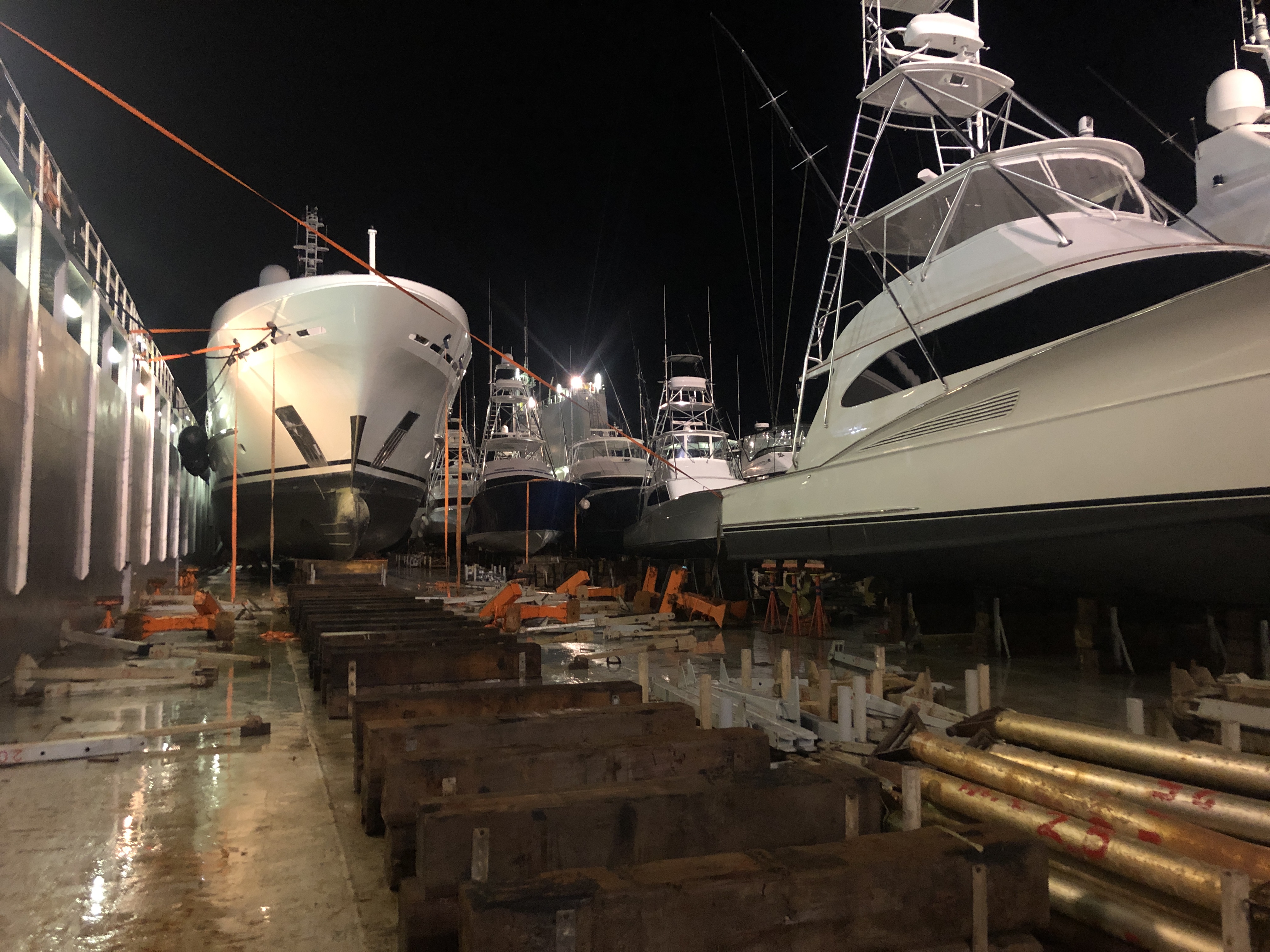 The ship's crew, in our journey, were made up of a great bunch of hard-working men. The early days involved short passing interactions, often a nod, perhaps a g'day and always a grin back. As the weeks rolled on, you began to get to know the deck crew and appreciate their workloads and why they work. Almost all crew, or 'orange suits', as they are affectionately known, send all their salaries back to families in the Philippines. Watching the crew working in extreme circumstances to maintain the deck quickly makes you appreciate how hard working these guys are.
Meal times are a chance for both riders and crew to share a room and unwind. The ship has 3 full-time chefs who are there at 6 am and are seen leaving at 730 pm every evening. There were no happier people on the ship than the chefs.  They would whip up impressive Asian cuisine daily with the odd western classic.  The dining hall was located on the 4th level at the bow of the ship. Each meal involved walking along the 150m deck, up 4 flights of stairs and back. It was a great chance to see the view of what was ahead. Most of the time, acres of blue ocean and waves of flying fish avoiding the impending turbulence created by the ship's bulbous bow.
Anyone who has spent an extended period of time at sea will know that you can witness some remarkable sights when on the water. The longer you're out there, the greater the likelihood you will see something incredible.  After dropping off a handful of sportfish yachts in Costa Rica, we set sail for Tahiti. A two and a half week journey. We soon noticed the boat was covered in a white fishy substance, soon to be identified as bird excrement.  A flock of frigates had made the mast their home after our Costa Rican drop off.  These birds had learned the mast provided an ideal launchpad to bomb flying fish from above. They knew a ship of this size caused a disturbance and would cause flying fish to scatter from the multiple bow wakes. The birds would hover over the bow of the ship and swoop down at full speed and clean up schools of flying fish with military-like precision. It was relentless. Those flying fish would then, in turn, end up on the deck in the form of bird droppings. A vicious cycle indeed. One the Orange Suits didn't appreciate one bit.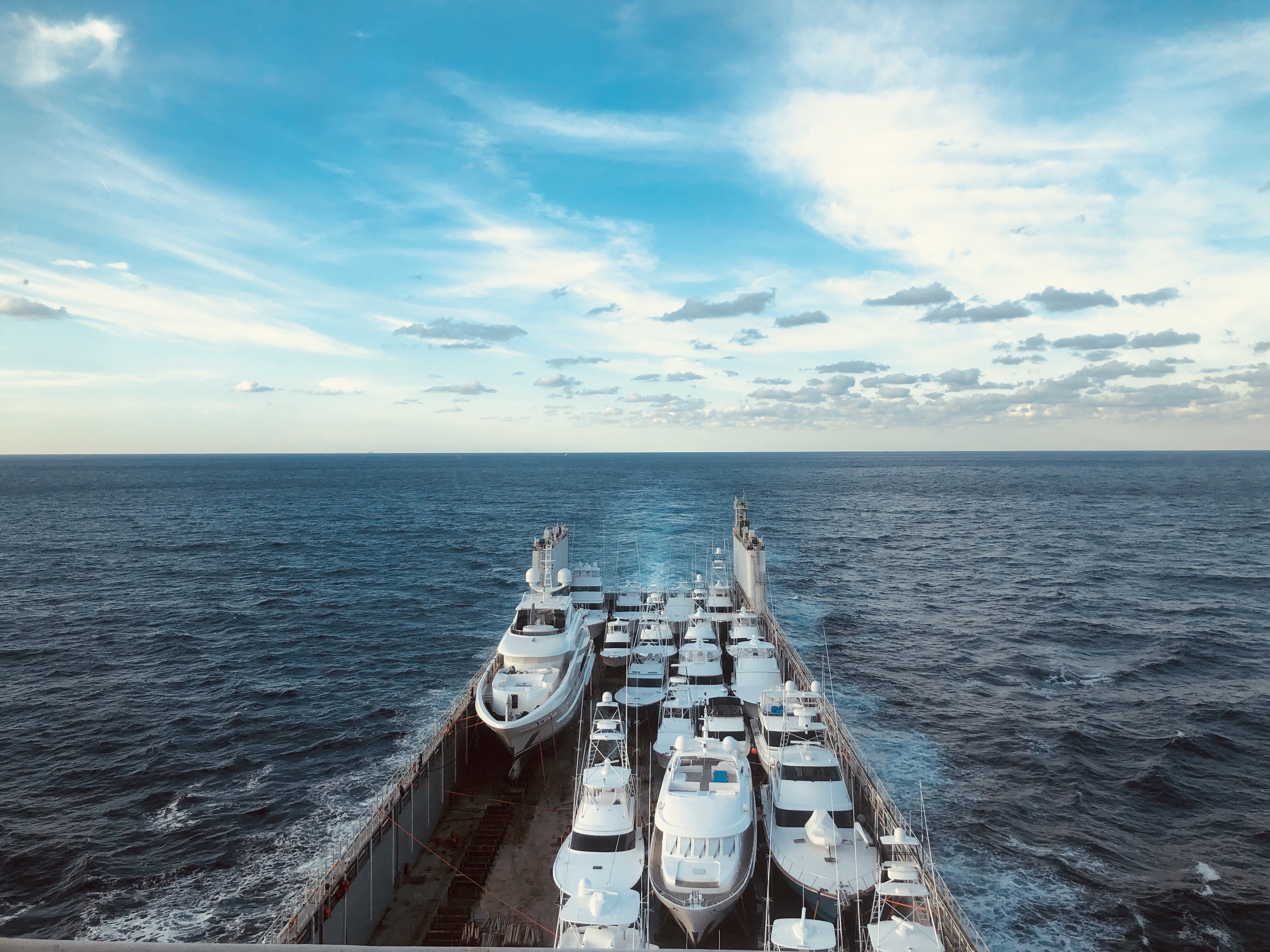 We were fortunate to have been asked by the Chief Engineer if we were interested in an engine room tour. The Chief whipped "…wear shoes and pack a lunch".
A few things immediately stood out. The scale, cleanliness, and organisation.  Butterfly valves the size of palettes. A control room where everything had a place and purpose and every button, valve, switch, breaker – labeled.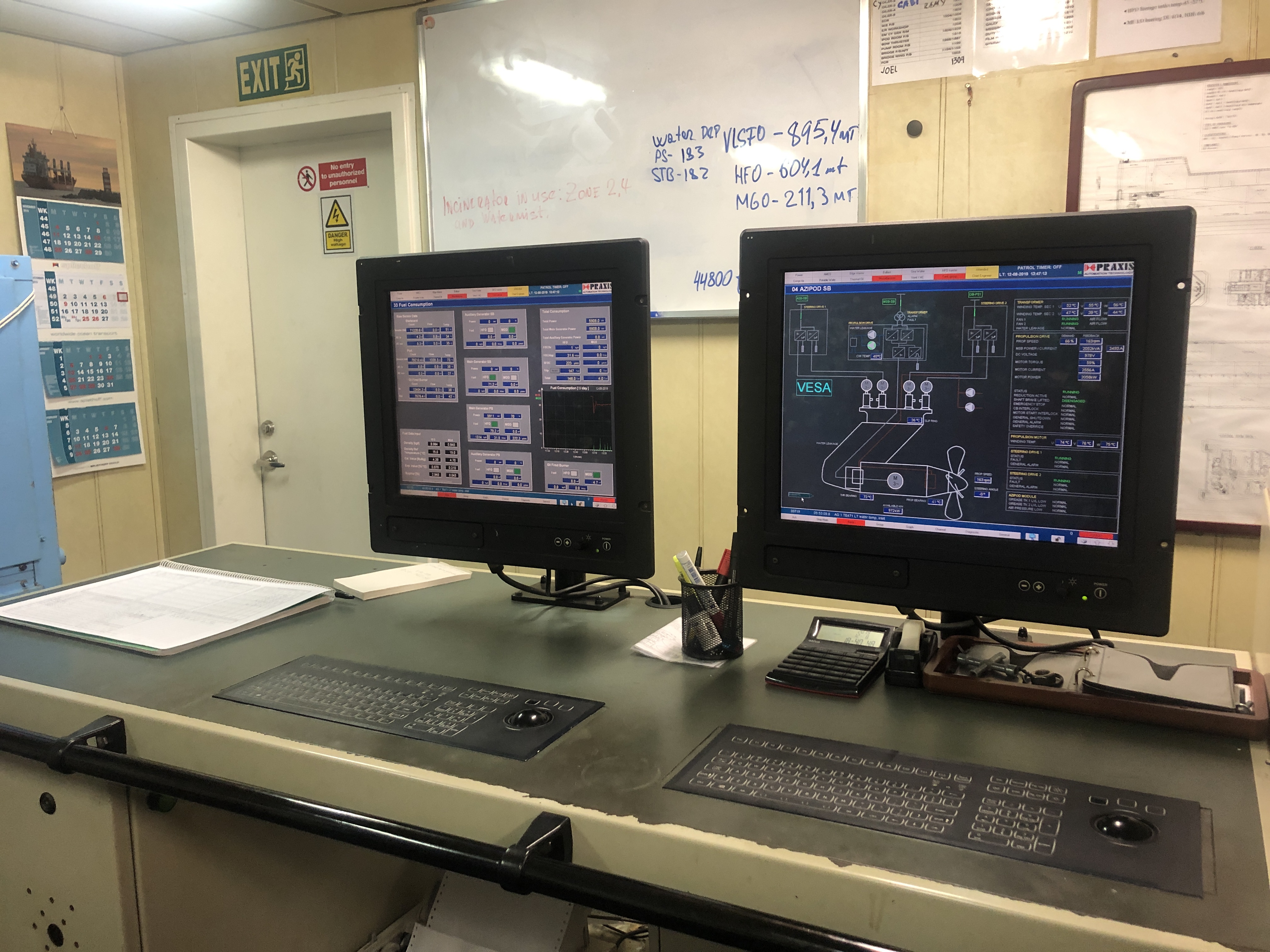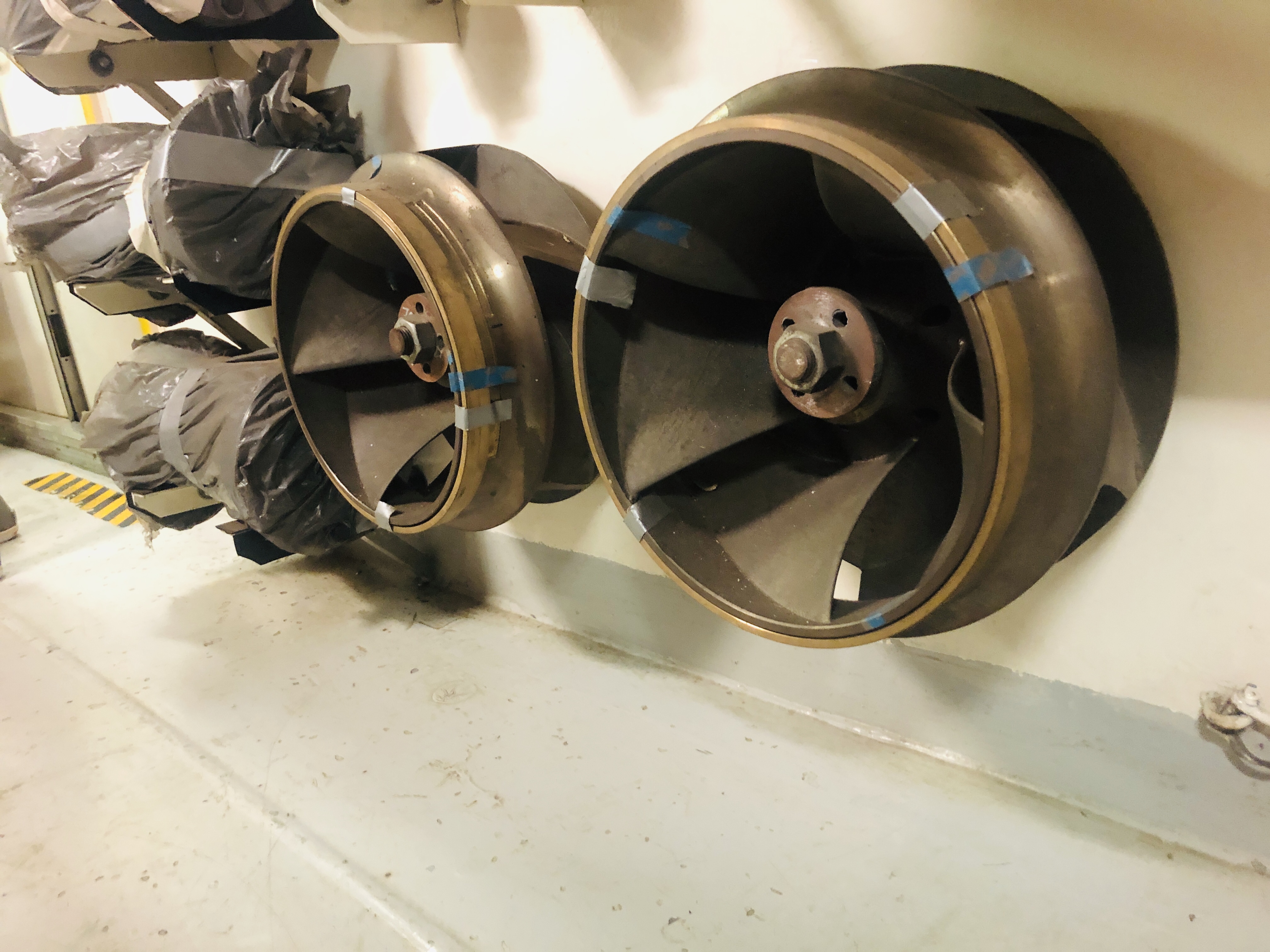 Driven by twin ABB Azipods, Yacht Express is pulled, not pushed. Meaning the Azipods face forward as opposed to facing back to push vessels through the water. The undisturbed water creates an additional 10% efficiency improvement meaning less fuel is required to achieve the same cruising speed.
Yacht Express burns roughly 37 tonnes of fuel a day. Fuel efficiency is a major factor when considering the profitability of various routes the vessel will make throughout a year.
Crossing the equator was no joke. The crew of Yacht Express wore this as a badge of honor and well before the actual day, word circulated about the history and events attached to being a sailor and crossing the equator for the first time.  If you don't know, the ceremony includes the transformation from slimy Pollywog (a seaman who hasn't crossed the equator), to trusty Shellback, also called a Son or Daughter of Neptune.  Ceremony traditions vary but you can bet on being covered in galley slops, something fishy involved and generally smelling fairly average for a few hours.  The crew on Yacht Express did a great job of getting everyone excited and coming together to break up the monotony of days and days of uninterrupted travel.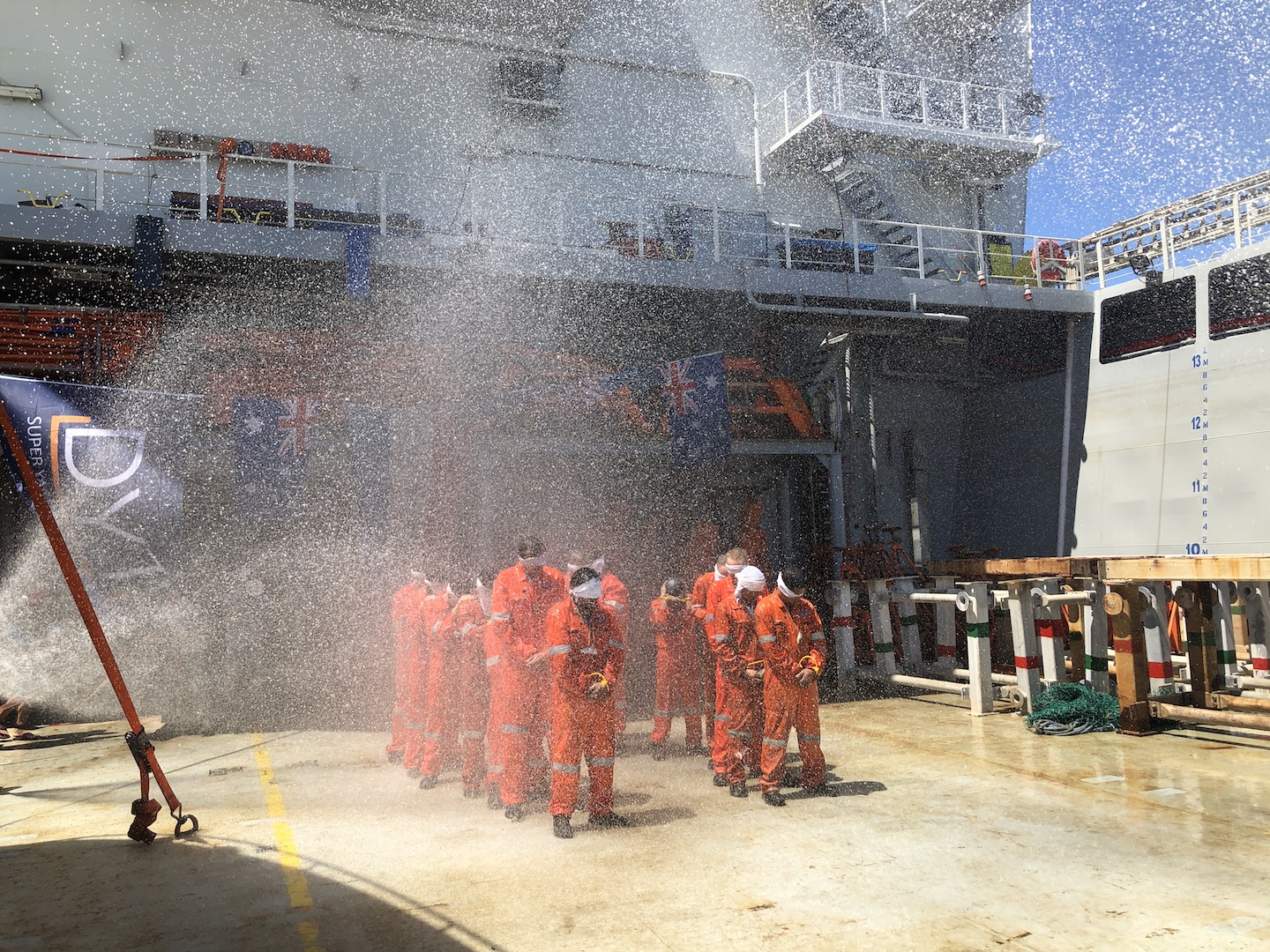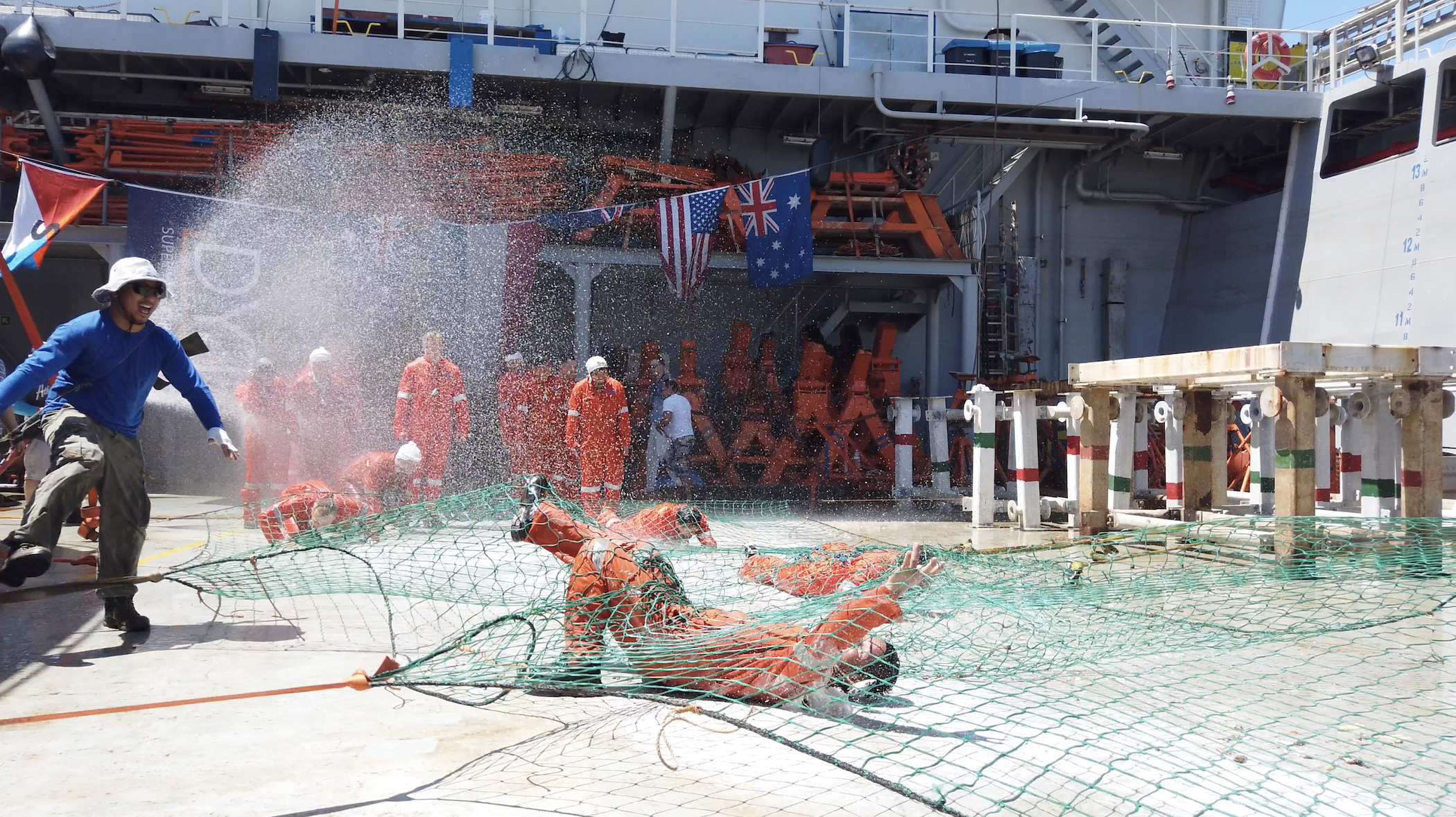 Rising from the horizon were scattered, steep green, dramatic mountains surrounded by reef showing off all the possible shades of blue. Pulling into Tahiti after 30 days at sea was surreal.
Unloading off Yacht Express is much quicker than loading.  Instructions to disconnect water hoses and shore power were given hours before arriving into port which allowed the riders ample time to prepare their vessels. The process of preparing a vessel to splash after an extended periodic on the hard is an extremely busy time for an engineer.
After disconnecting shore power, yachts are required to stay dead ship while divers assess each vessel and ensure they are clear to exit through the stern of the ship.  One by one, each vessel starts generators and main engines and asses if they are prepared to leave the ship. This is again a busy time for engineers who must ensure all valves are in the correct operating position and equipment happily running.   Fortunately, this time around, all vessels were seaworthy and able to disembark.
Yacht Express is an adventure in itself. It is a cross between a yard period and completing a crossing on your own bottom. It's a great opportunity to form friendships with other riders and the ship's crew and enjoy the peace that is a wide-open ocean for days on end.
For more on Yacht Express and Seahub, get on over to https://www.facebook.com/yachtmaintenancesoftware
https://www.yacht-transport.com/